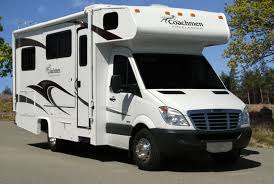 The Motor Home
The Motor Home
VEHICLE: My prospective RV will be a 23 – 25′ C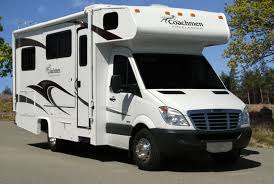 lass C Motorhome. Being as i'll be travelling alone, it is the perfect size for 1 traveler as well as big enough for when friends and family come to visit (Sleeps up to 6). I'll be buying it used to fit my budget and plan many upgrades and modifications to it.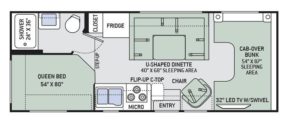 LAYOUT: This is the layout I'd kinda prefer, it has more of an opening at the end of the bed, rather than having the Fridge there. Downside with this layout is storage space from the closet. I plan to use the cab-over bunk for storage as well as possibly redesigning the dinette area with more storage. That's all future plans, with minimal living and very few necessary items to bring along. All should be ok.
FEATURES: Sleeps up to 6 (2 over cab, 2 in back queen, 2 in dining conversion), 50+ Gallon Water Capacity, 2-3 Burner Gas Stove, Gas Oven, Microwave, Air Conditioning, ABS 4 Wheels, Power Brakes , AM/FM Stereo, CO2 Detector, Cruise Control, Generator, Hitch, LPG Detector, Power Door Locks, Power Steering, Power Windows, Tilt Wheels, Fantastic Fan, Roof Ladder, & Smoke Detector.